---

Click here to listen to the radio interview.
Karen Hurwitz, JD, LCSW, part of the team that helped the defense pick the jury in the Casey Anthony trial, shares her thoughts and feelings on the process and the verdict with Roula & Ryan at 104.1 KRBE FM radio in Houston, Texas.
---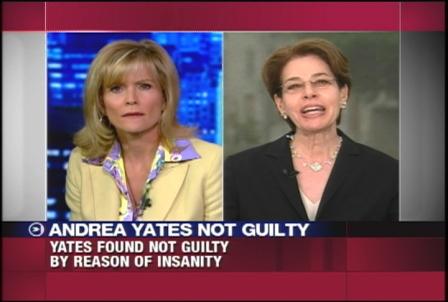 Ms. Hurwitz was pleased to assist the defense in jury selection in the Andrea Yates retrial in 2006. She spoke to Catherine Crier about the jury following the jury's
verdict of not guilty by reason of insanity .
Commentator

During the first Andrea Yates trial, Ms. Hurwitz provided perspective on both the legal and psychological aspects of the case on the CBS Early Show.
Speaker

"The Jury Consultant's Perspective on the Impact of Television and Movies on Jurors' Expectations" Garland Walker Inns of Court, Houston, Texas, February 2005

"Law Firm Dysfunction" Dallas Young Lawyers, Dallas, Texas - November 21, 2003

"Law Firm Dysfunction, Not in This Firm" Houston Association of Legal Administrators, Houston, Texas - September 2003
"Voir Dire: Know the Law and Act Like a Therapist" Houston Bar Association Continuing Legal Education Seminar, Houston, Texas - June 2003

"Voir Dire: Know the Law and Act Like a Therapist" Houston Legal Assistants Association, Houston, Texas - May 2003



"How Jury Consulting Can Be Used in Labor and Employment Cases" -- panel discussion, Houston Bar Association Labor and Employment Section, November 2013

"Picking a Jury in Employment Cases" -- panel discussion, Houston Bar Association Labor and Employment Section, May 2011

"Time Management for Attorneys" -- panel discussion, ABA Section of Litigation Annual Meeting, Houston, Texas - April 2003



"Jury Selection in Criminal Cases Involving Mental Illness and the Insanity Defense -- My Work on the Retrial of Andrea Yates", guest lecturer, Law and Psychiatry course, Texas Tech Law School, February 2014



Faculty Member, Center for International and American Law, Plano, Texas, Advanced Criminal Trial Advocacy Course For the Defense, August, 2013


Faculty Member, Center for International and American Law, Plano, Texas, Advanced Criminal Trial Advocacy Course For the Defense, August, 2012


Faculty Member, Center for International and American Law, Plano, Texas, Advanced Criminal Trial Advocacy Course For the Defense, August, 2011


Faculty Member, Center for International and American Law, Plano, Texas, Advanced Criminal Trial Advocacy Course For the Defense, August, 2009


Faculty Member, Center for International and American Law, Plano, Texas, Advanced Criminal Trial Advocacy Course For the Defense, August, 2008


Faculty Member, Center for International and American Law, Plano, Texas, Advanced Criminal Trial Advocacy Course For the Defense, August, 2007


Faculty Member, Center for International and American Law, Plano, Texas, Advanced Criminal Trial Advocacy Course For the Defense, August, 2006


Faculty Member, Center for International and American Law, Plano, Texas, Capital Trial Voir Dire and Communicating With Jurors For the Defense, June, 2005


Faculty Member, Center for International and American Law, Plano, Texas, Advanced Criminal Trial Advocacy Course For the Defense, May, 2005


Faculty Member, Center for International and American Law, Plano, Texas, Capital Trial Advocacy Course For the Defense, January 2005


The Third Circuit holds that a trial consultant's work with a witness in preparation for trial is protected from discovery under the work product doctrine.
3d Circuit's Decision.pdf